Overview
Statement dates are a way for you to categorize and group payments you receive from carriers. These dates are used throughout AgencyBloc and allow you to find missed commissions, project your expected commissions, generate agent statements, and more. Manage your statement dates accordingly with the merge, purge, and lock functions. Learn how in this article.
IN THIS ARTICLE
---
Video Guide
(2:56)
---
Merging dates
If you import a group of carrier statements on different days and they're actually for the same statement date, you can combine them using the date merge function.
To merge dates:
Navigate to the Commission > Date Utilities page.

In the "Merge From date" dropdown list, select the date you want to move.

All commission entries on the specified date will be moved.

In the "Into Date" box, enter the statement date you wish to move the commission entries to.

Enter an existing date to combine multiple dates and their commission entries from into a single date. You may also create a new date.

Select the "Merge Commission Dates" button.

Please note, merges cannot be undone.
---
Purging entries
If an error occurs when importing commission statements (maybe the mapping was off) or you need to delete old commission entries to comply with your agency's data retention policies, you can use the date purge function.
To purge entries:
In the "Purge Entries From" dropdown list, select the statement date you want to purge entries from.

Choose to purge the entire date or only a particular carrier on that date.

Select the "Purge Commission Entries" button.

Please note, purges cannot be undone.
---
Locking dates
After reconciling and linking up the commission entries for a particular statement date, you can prevent further changes and finalize them by locking the date.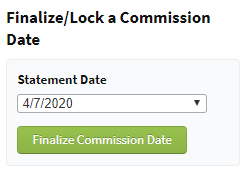 Locking dates ensures that:
Policies have accurate commission histories.
Reports and statements are accurate.
Agents are paid the right amount.
Also, agents may only view statements for dates that have been locked.
Unlocking dates
If you accidentally lock a statement date too soon or you need to go back to a date to edit it for any reason, you can unlock it. Just make sure you remember to lock the date again after you've finished making changes.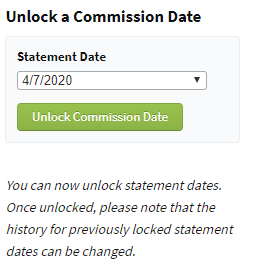 ---
Common questions
Why can't my agents download their statements?
Agent Statement Users and Agent CRM Users can access and download statements only for locked statement dates. You can lock statement dates on the Commission > Date Utilities page. Please note, locking a date prevents further edits to the commission entries of that particular date. You should lock a date only after finalizing its commissions.