Overview
From time to time, you may need to update your AgencyBloc login info and password. Personalize your account by adding a profile picture.
IN THIS ARTICLE
---
Editing your info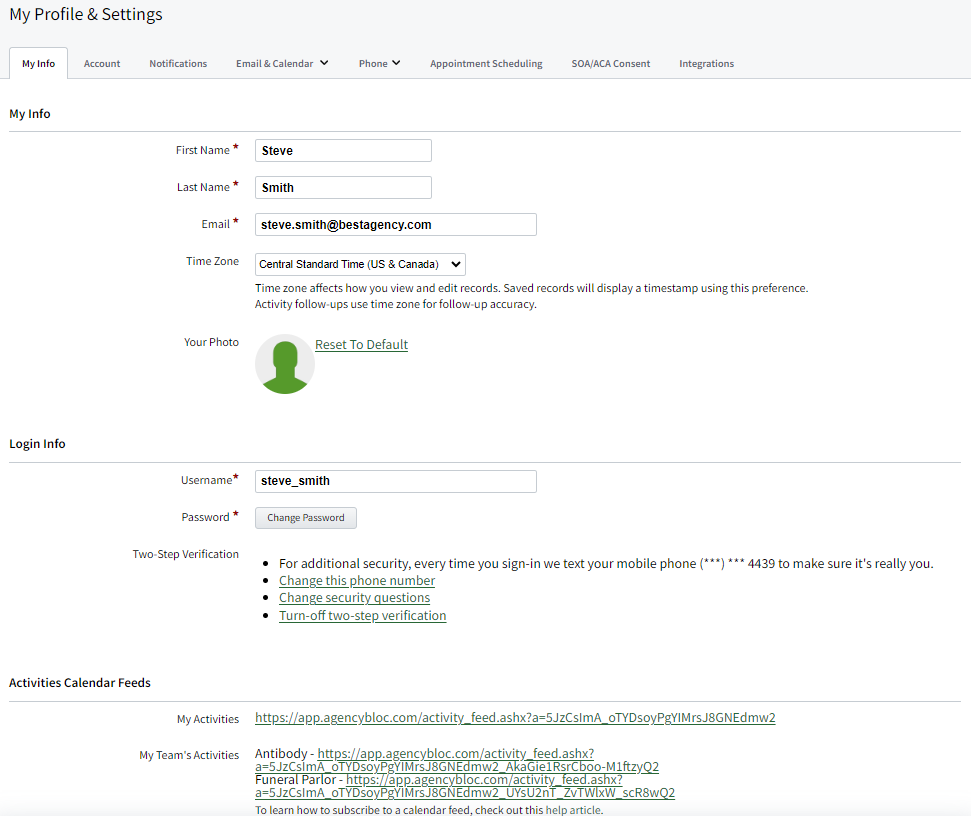 Name - Make sure you have the correct first and last name. Your name is included in the timestamp when you save changes to a record, create records, etc.
Email - Make sure your email is up to date. Activity notifications and email campaigns will be sent to this email address.
Time zone - Having the correct time zone is important because it affects how you view Activities on the AgencyBloc Calendar, Activities Dashboard, and record timestamps across AgencyBloc. If you change your time zone, Activities with start/end times and record timestamps will update to reflect the new time zone.
Username & password - Make sure your username and password are easy for you to remember but difficult for others to guess. The best way to secure your account is to never share your username or password with anyone.
Two-Step Verification - Add an additional layer of security by tying a mobile phone number to your account. Every time you log in, we'll text you a unique code to make sure it's really you. Visit this article for setup instructions.
Activities Calendar Feeds - You can display your AgencyBloc activities on a calendar outside of AgencyBloc to see all appointments, events, and Activities in one place by using an iCal feed. Visit this article for setup instructions.
Your Notifications - These notifications can help you stay up-to-date on your Activities at all times. Visit this article for more details.
---
Adding a profile photo
Add a profile photo to personalize your account. You can always change or remove the image.
You can upload and edit your profile photo from the:
Profile & Settings icon > My Account > Your Info page.

Activity Details

Note: We recommend using a .jpg that is at least 150x150 pixels but no larger than 500 pixels wide.
Where your profile photo appears
If you've added a profile photo, it will show in the following places:
Activity Details

Sales Opportunity cards on the Sales Pipelines Board

Sales Opportunity timeline