Overview
Use policy records to track policy and coverage information, enrollment and election information, and commission activity. If you're processing commissions in AgencyBloc, you'll want to set up commission payees and projection data on every policy. This data is used in other areas of the application. Learn more about policy records in this article.
IN THIS ARTICLE
---
Basics of Policies
The Policies page lists all policies (identified by a teal block) in your account for an at-a-glance view of your policy data. If you want to change the data that appears on this page, go to column settings in data admin.
---
Creating a Policy
Select the +New button, located in the application header on any page, then Policy in the dropdown menu.

A window will appear where you will need to fill in some preliminary policy information, such as the policyholder, carrier, status, and coverage type.

Select a record type and fill in client info.

By selecting the record type, you are setting the policyholder. A policy can have an individual or group policyholder. Please note, you may see a different tab and a few different fields on the Policy Detail tab of the policy depending on the policyholder.

Select 'Save' to create the policy.

In the "New Policy" window, select 'Save' to create the new policy and continue to the Policy Detail page, or select one of the following options:

Save & Add Coverage (optional)
Selecting this option will immediately open the newly created policy's Coverages tab where you can add coverage and carrier product information.
Save & Add Another (optional)
Selecting this option will create the new policy and refresh the "New Policy" window so you can immediately create another.
Deleting a policy
Before you can delete a policy, you'll need to move any commission payments to another policy. This is to ensure you don't lose any financial or historical payment data. So, when you need to delete a policy, make sure to move the payments prior to deleting the policy.
In the situation where you no longer need the payment history or they were entered in error, you'll need to remove each commission payment for that policy.
---
Policy tabs & summary
When creating a policy, you will need to associate it to a policyholder: group or individual. Depending on the policyholder, you may see a couple of different fields and tabs related to enrollments and elections on the policy record. Also, only accounts with the Commission Processing module can use commission data. See below for more details.
Group policy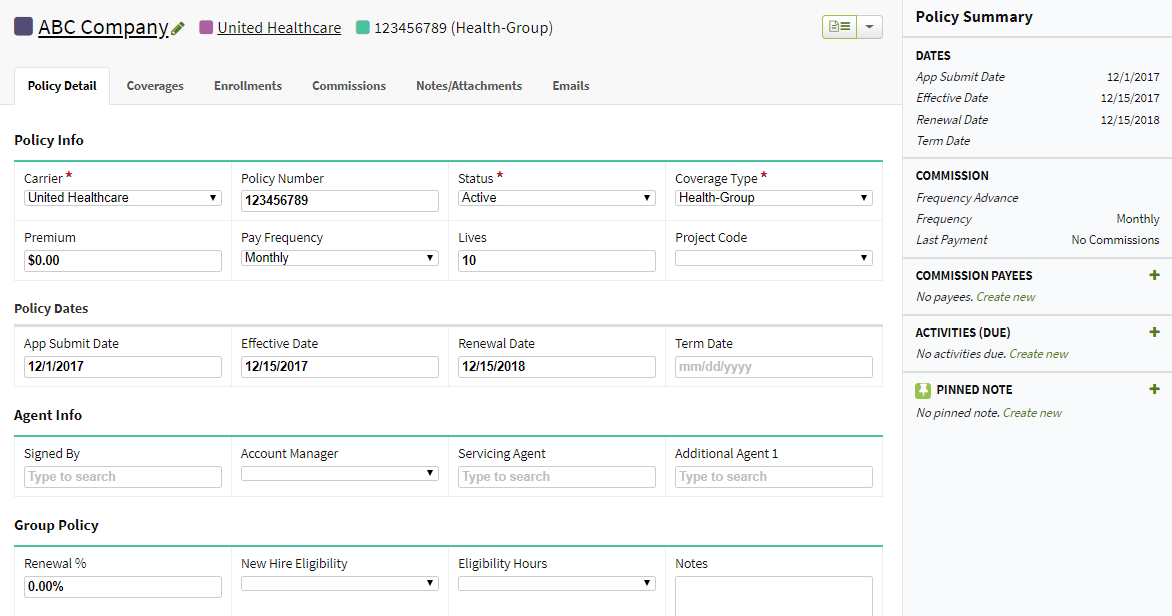 Individual policy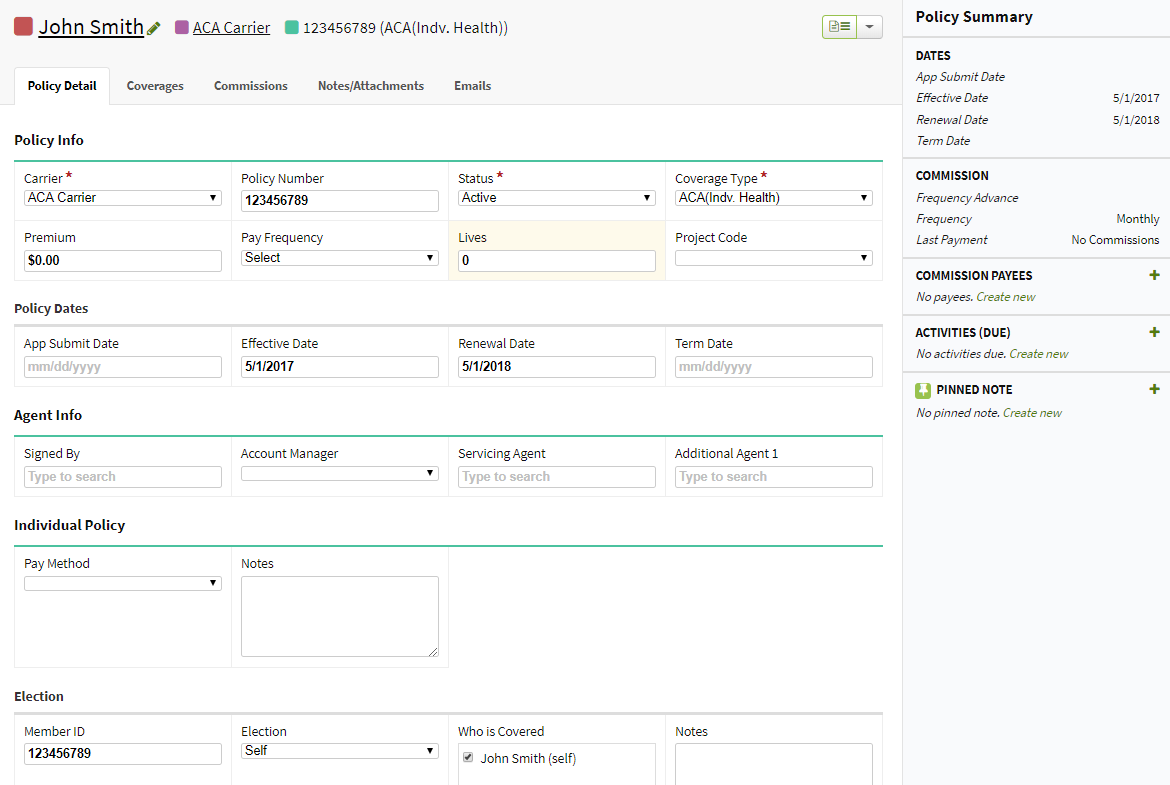 Policy Detail
This tab shows policy-specific data, notes and custom information. If the policy is associated to an individual policyholder, you can add election data to this tab to track who is covered, such as spouse and children, for your individual business.
Coverages
This tab shows policy coverages and carrier products that are associated to the coverages. Use coverages to track detailed information on carrier products. You can change the field sets on this tab to change the data that you can track based on coverage type. Please see Using Policy Coverages for more details on setting and using coverages.
Enrollments (Group policies only)
This tab shows all enrollees (individuals) that have enrollments with the policy. Use this tab to add and track enrollment and election data for your group business.
Commissions (Plus plans only)
This tab shows payment history, projections, payees, and settings. You can use this tab to track the policy's commission activity and data. Please note, the data you enter in this tab is used in other areas of the application.
Activities
This tab shows activities from associated groups or individuals that are related to the policy. Please note, activities can't be created for a policy directly.
Emails
This tab shows emails that were sent to the policyholders, servicing agents, account manager, or system users of the policy using Automated Workflow or Email Marketing. It also shows all Email Marketing campaigns that include the policyholder of the policy.
Not everyone at your agency may have access to Email Marketing or Automated Workflow, but they may have access to this tab. Others at your agency can view this tab to see whether emails have been sent.
Notes & Attachments
This tab shows notes or attachments associated to the policy. When you create a note, you'll see a "Pin Note" option. Pinned notes appear in the policy summary. Pin notes to track important information.
Workflows
This tab shows automated workflows that include the policy as a trigger condition.
Note: This tab is only displayed if your agency has Automated Workflow turned on.
Policy Summary
The policy summary shows important policy dates, commission details, open activities, and pinned notes.