Overview
Activities are actionable to-dos in AgencyBloc. Create activities to track interactions with agents, clients, prospects, and team members, and set follow-up reminders. Activities can't be altered or deleted, so you can use them as a source of historical data.
IN THIS ARTICLE
---
Creating a new activity
There are many ways to create activities in AgencyBloc. In general, you can create new activities by using the +New button located at the top of the application screen, or the 'Create New' button when viewing the Activities tab of a Group, Individual, Agent, or Carrier record.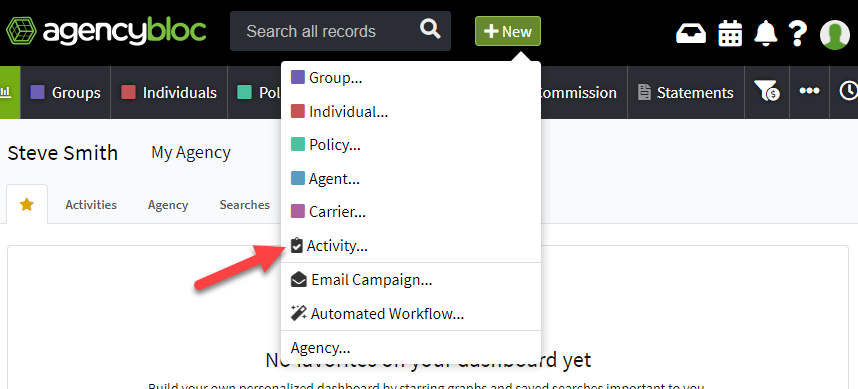 Once created, you can view and append an activity at any time. Viewing an activity will display its notes and details in chronological order based on its activity dates. To append, open the activity and select "Add a comment, file or status…". Any changes you make will be added to an activity thread with the original activity still intact.
You can also create activities via the following:
Priority & status
Set the priority to show an activity's importance and level of urgency. You can sort activities by priority when viewing them on the record or your Activities Dashboard to ensure the important activities are taken care of first.
Set the status to show an activity's state of completion. Until an activity's status is changed to completed, it will be treated as incomplete.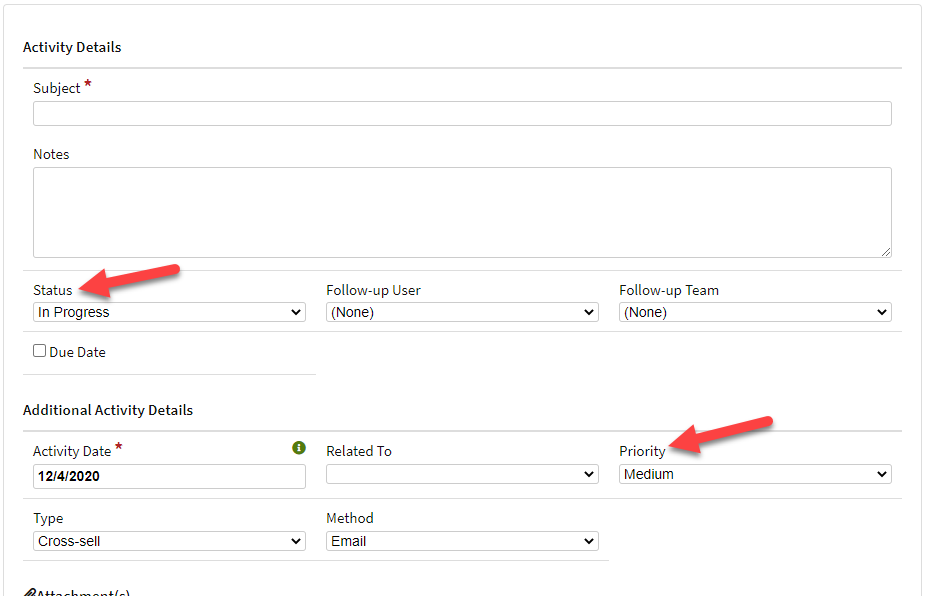 Note: You can add, remove, or update the priority and status field options that you can choose from. Visit the Data & Custom Fields article for more details.
Follow-up user & team
Set a follow-up user and/or team for assignment. The follow-up user dropdown only lists active users in your account. Agent CRM users need to be assigned to the record in order for you to select them as a follow-up user.

Dates
Set dates to track when an activity occurred and schedule a reminder to appear on your dashboard.
Posted Date - This date is a fixed timestamp that shows when the activity was created or last appended. You may find it useful for tracking an activity's change history from an auditing perspective.
Activity Date - This date is used to record when the activity actually occurred.
Due Date - This date is used to schedule alerts and reminders for the follow-up user and/or team. It also affects the view filter on the Dashboard > Activities List. Only activities with due dates will display on your calendar.
Please note, how you view the Posted Date timestamp and Due Date start/end times is based on your time zone. If you aren't using your current time zone, activities may show incorrect times. This is particularly noticeable on the Activities Dashboard and calendar. You can change your time zone in Profile & Settings > My Account > Your Info.

---
Managing activities
There are several areas in AgencyBloc where you can track and manage your activities.
On the record - A list format shows all activities associated with a particular record.
On your Dashboard - A list format that shows all open and recently completed activities assigned to you, your teams, and others. This includes activities with no due date.
On the calendar - A calendar format that shows all activities assigned to you, your teams, and others for a given month/week/day. Please note, activities must have a due date to be displayed on the Calendar.
Please note, user settings affect whose activities you can see and access. By default, you can see activities assigned to you. If you want to see activities assigned to a team or others, you may need an administrator at your agency to adjust your user settings. See the Managing Users article for more information.
---
Activity notifications
When you or your team is assigned an activity, you'll receive an email notification. The notification has a brief summary of the assigned activity and a direct link to it in the application. These notifications can help you stay up-to-date on your activities at all times.
You can receive an email notification when:
An activity is assigned to me.
An activity is assigned to a team I'm on.
An email sent to my Activity Forwarding Address can't be assigned.
Users receive email notifications for activities by default, but you can update these settings:
Navigate to the Profile & Settings menu > My Account > Your Info.
Scroll to the Your Notifications section.
Check or Uncheck options and then select save.
Your changes will take effect the next time an activity is assigned to you.
---
Common questions
When should I use activities and when should I not?
When an activity is created, it is associated to a record (agent, carrier, group, individual, or policy) in your account. We recommend creating activities for to-dos and follow-up reminders that are related to the record in some way. For example, appointments with clients/prospects, reminders to run reports, create email campaigns, etc.
Also, it's helpful to keep in mind that:
Activities can't be deleted.
Activities do not span multiple days (ex. Monday thru Friday).
Activities do not recur.