Overview
Keeping track of employment information is key when working with groups and their employees. Add employee information to AgencyBloc so you can have it at your fingertips when working renewals and servicing your group business. Learn about adding employment info in this article.
IN THIS ARTICLE
---
Working with employee information
When adding/associating an individual to a group, you can set the following employment details for the individual:
| Field | Description |
| --- | --- |
| Emp Classification | A dropdown field to track an employee's classification. You can set field options available in the dropdown. |
| Emp Status | A dropdown field to track an employee's status. You can set field options available in the dropdown. |
| Emp Salary | A currency field to track employee's salary. |
| Emp Dates | Fields to track both the date of hire and term date for an employee. |
| Notes | Enter notes to keep track of any other details you need. |
If you want to edit employment details for an individual, go to its employer (group) and select the link under the "Emp Classification" or "Emp Status" columns.
Enter any updated employment info, then save the changes.
---
Viewing employee information
Group records
Open the Individuals tab on a group record to get an at-a-glance view of the group's employees and their employment information. You can customize the data that displays on this tab in column settings.
Individual records
When an individual is associated with a group, the employment classification and status will appear next to the individual's name. To see more or edit details, click on the green pencil icon.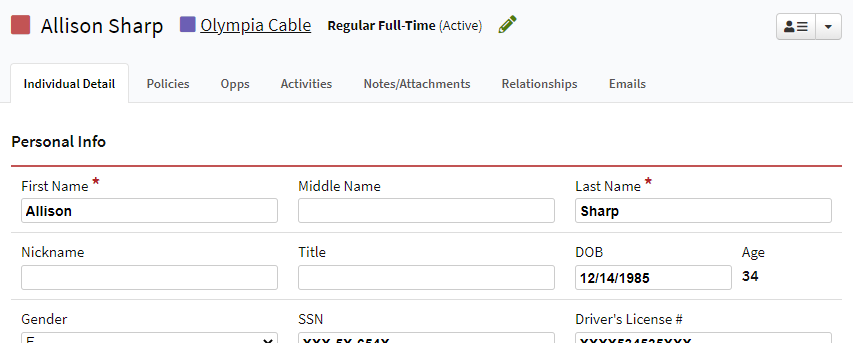 Policy enrollments
Open the Enrollments tab on a group policy record and select the link under the "Enrollment Status" column. The enrollment window will appear.
If the individual has employment date information, the hire date will display in the "Individual" field. This date will also appear in the "Individual" field when you're creating or updating a policy enrollment. You may find this helpful when creating enrollments for group employees who share the same name but have different hire dates.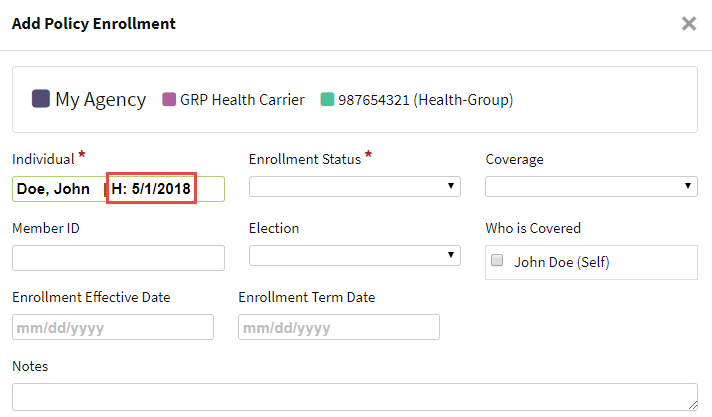 ---
Downloading employee information
On the Individuals tab of a group record, you can download a CSV file that lists all employees and their employment data. If you want to see more than one group and their employees, use the "Group" standard report.
Note: To access Standard Reports, users need Visible report permissions.
In Reports > Standard Reports > Contact, select the "Group" report. Choose the "Include Individuals" option and mark the "Include Employment Fields" checkbox. You can also apply filter criteria to help narrow your results. Please note, if you don't use any filter criteria, your report output will include all groups in your account.
---
Common questions
Is there a way to add/update a large number employees all at the same time?
Yep! You can use the Book of Business import to either add new records or update existing records. Contact our Client Success Team for more information.
What happens when I move an individual from one group to another?
Good question. The employment data is kept and you can make updates at the same time.
Can I report on individual employment info?
Yep! Check out the Downloading employee information section in this article.