Overview
There are two basic search methods in AgencyBloc: Search All records and Quick Search. Use the search box in the main menu to search all records or focus your efforts by searching in a specific section. You can search for Groups, Individuals, Policies, and Agents. Sort and filter your data to see only what you need.
IN THIS ARTICLE
---
Search All Records
Use the search in the main menu to search across all Groups, Individuals, Policies, and Agents. Items matching your search criteria are grouped by section and can be sorted using the headings on each table. Results display for those records which a user has access based on their security settings.
Example: Searching for "Thad Bridges" will find any matches in Groups, Individuals, Policies, and Agents. So, if Thad Bridges is an individual and has policies in the system, the results will return the individual record for Thad as well as all of his policies.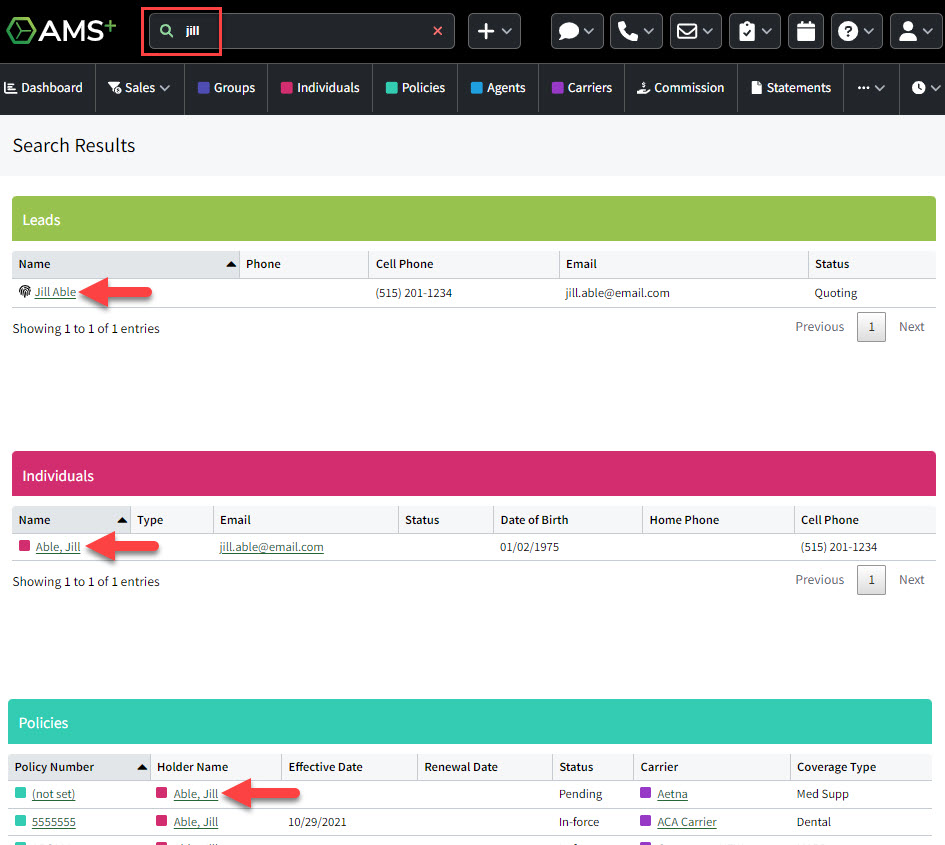 ---
Quick Search
Type your search criteria and see your results load in real-time. You can search fields even if they are not displayed. For example, if you do not have Individual Status as an item in your column settings, you can still search for it.
Sort your data by clicking on the column heading. This quickly groups the data together - sorting ascending or descending. Select the number of entries you want to see per page using the "Show Entries" dropdown.

---
What is Searchable
Searching both All Records or Quick Search looks for matches from the field list below:
Groups
Individuals
Policies
Agents
Name
DBA
Status
Type
Federal Tax ID
Lead Source
Phone
Agent Last Name
Project Code
Name
Nickname
Associated With
Status
Type
SSN
Lead Source
Phone
Email
Holder Name
DBA
Policy Status
Coverage Type
Policy Number
Commission Number
Carrier
Effective Date
Renewal Date
Name
Nickname
Status
City
Agent Number
Agent Contract Number
E&O Expiration Date
Email