Overview
Payee schedules can help you save time and extra steps with commission processing by simplifying payee setup. If your agency splits commissions with an agent or agents the same way for all or a majority of the policies written, payee schedules may work for your agency. If your agency has complex payout scenarios, you may consider setting payees uniquely for each policy.
IN THIS ARTICLE
---
Video Guide
(8:08)
---
Linking imported commission entries to policies
Choose the statement date and search.

The full commission import based on the statement date will appear. To help you find red edits, use the "Exceptions" menu to filter them out.

Select the red "Edit" button for a commission entry to open the "Edit Commission" window.

In the Policy Search bar, enter the policyholder's name.

Locate the matching policy record and click the "Select" button.

The policies will link up and the payouts will be defined.

Save and close.

The policies should now match up every import moving forward.
Rinse and repeat for every red edit until all policies in AgencyBloc have been accounted for.
---
Creating new policies
There's also the case where the policy may simply not exist in AgencyBloc. If all of your policies are accounted for, and it appears that an imported commission entry belongs to a brand new policy, create a new policy and set up the payees for it.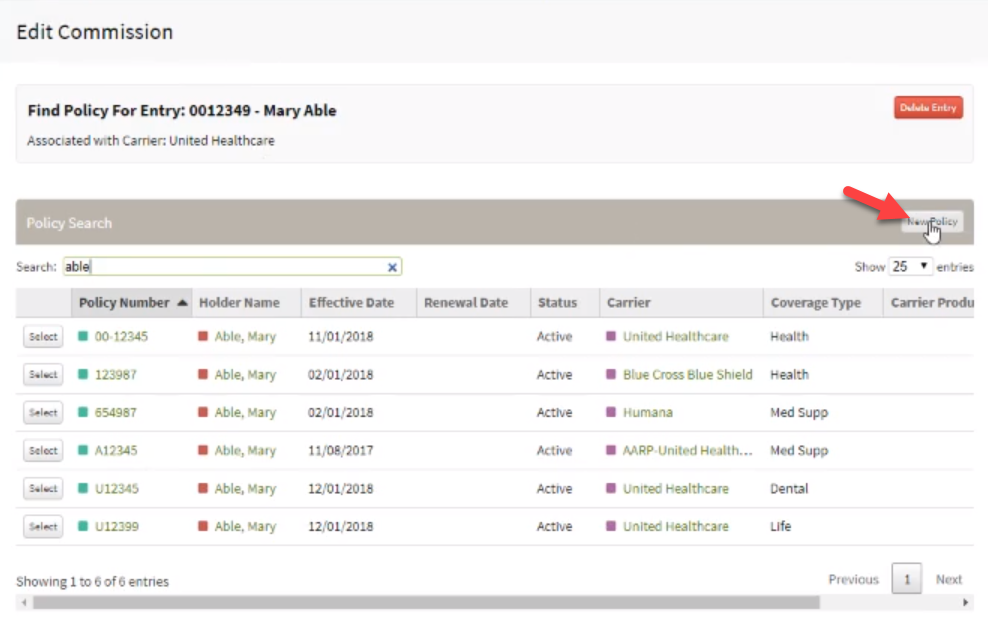 ---
Adding the bill from date
Rate tables that use dates for one-time adjustments look at the bill from date to determine when to go into effect. If your bill from date is missing, AgencyBloc won't know what to do with those rate tables.
To verify:
Select a red edit.

If the "Edit Commission" window shows the commission entry is linked to a policy, check the "Payments" table.

If you see red "Edit" buttons next to any of the payees, check the "Rate Type" column in the table.

If you see "Rate Not Found", check the bill from date on the commission entry.

If the bill from date is empty and you know when the payment was made, choose that date and save.

The "Rate Type", "Rate", and "Commission" columns in the table should update to reflect the changes.