What is Zapier?
Zapier is a third-party automation platform that connects your work apps and does repetitive tasks for you. Zapier connects more than 5,000 apps, including AgencyBloc. If you know what apps you want to connect, look them up in Zapier's app directory.
Please note that Zapier is not a product of AgencyBloc.
How does it work?
Using AgencyBloc's Zapier integration, you can build a connection from your AgencyBloc account to other third-party apps to streamline processes, create efficiencies, and save time.
First, you construct a Zap. A Zap is a workflow made up of 1 trigger and 1 or more actions. The trigger is what kicks off the automated process between your apps. An action is what you want to happen automatically after the Zap is triggered.

After building your Zap, turn it on and go about your business. Each time the Zap's trigger event occurs, it will automatically perform the actions you defined.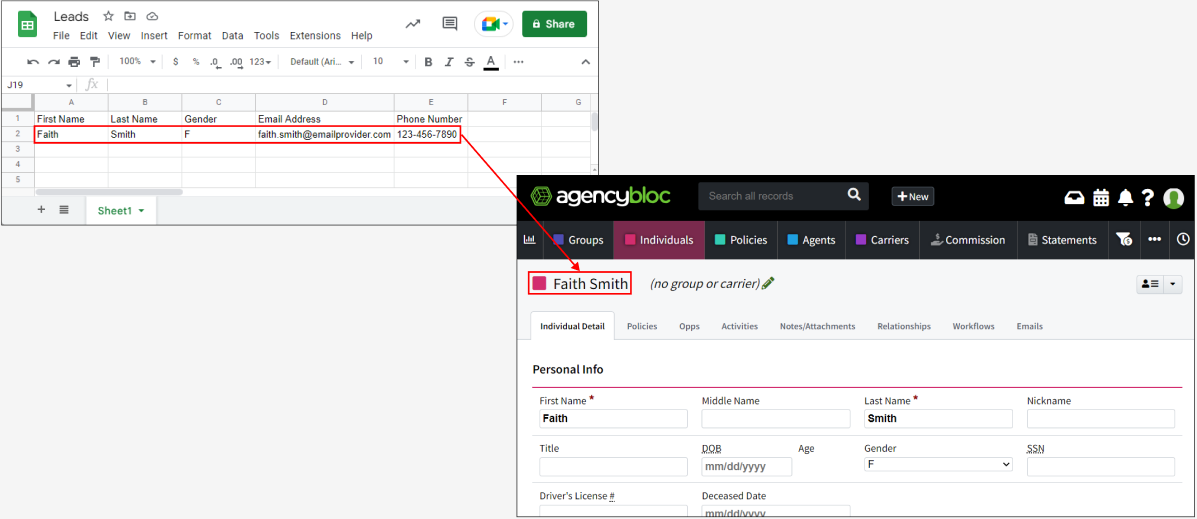 Is it HIPAA compliant?
Zapier recommends against sending sensitive data through their platform (see Zapier Security and Terms). Also, the use of regulated healthcare and medical data like HIPAA is not supported on Zapier. The platform does have SOC 2 Type II and SOC 3 compliance audits.
AgencyBloc does secure the data sent between AgencyBloc and Zapier.
However, the third-party apps you use in your Zaps may not be properly securing your data, and AgencyBloc can't prevent you or others at your agency from using third-party apps that aren't sufficiently secure.
AgencyBloc has vetted the usage of Zapier for some use-case scenarios. However, it is ultimately your responsibility to ensure you are conscious of the data you are sending between AgencyBloc, Zapier, and third-party apps.
What are the costs?
Zapier is a third-party platform with subscription costs and fees separate from AgencyBloc. For pricing information, go to zapier.com/pricing.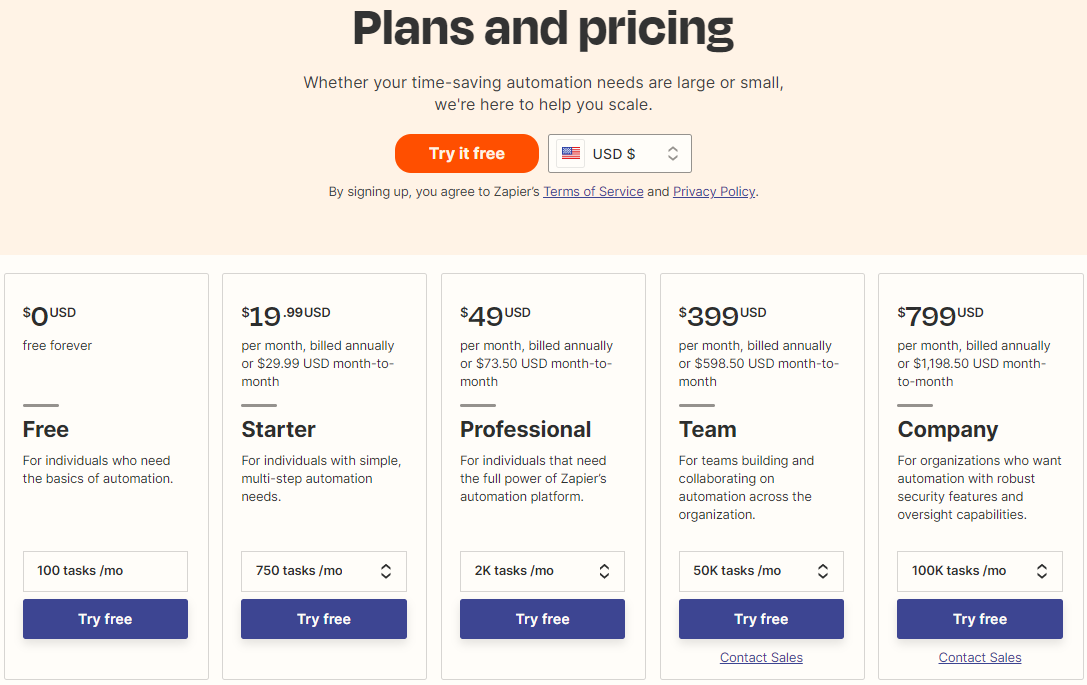 Screenshot was taken on 10/19/2022
Don't know which plan to choose? Ask yourself these questions:
What business processes do I want to automate and what kind of apps are involved in those processes?
Some apps are available with the "Free" plan while others require a paid plan. For example, Gmail, Google Sheet, RingCentral, and Handwrytten are free apps, but Facebook Lead Ads is a premium app.
How many Zaps do I want to create?
Each Zapier plan has a Zap and Task limit.
A Zap is a workflow made up of 1 trigger and 1 or more action steps.
A Task is a successfully completed action step.
How many apps do I want to connect in a single Zap?
Each Zapier plan has a Zap step limit.
With the "Free" plan, you can make single-step Zaps only (1 trigger and 1 action step).
The paid plans allow multi-step Zaps (1 trigger and 1+ action steps).
How often do I think the Zap will run?
Every Zapier plan has a Task limit. A Task is a successfully completed action step in a Zap.
For example, let's say you have a Zap with 3 action steps. You expect this Zap to run 5 times every month. Here's the math:
3 (action steps) x 5 (number of times the Zap runs successfully) = 15 Tasks
With this in mind, think about the number of Zaps and action steps you'll need. Take these numbers and do the math above, and you can estimate your monthly Task limit.
Note: Most of our Zap templates have multiple steps, and some of the more popular ones, like Facebook Lead Ads, use premium apps.
Where can I go to get Zapier training?
For training on Zapier, please visit the Zapier University. Here are some Zapier features you will want to learn and master to make awesome Zaps with AgencyBloc:
Who can I contact for assistance?
If you have questions about Zapier accounts, pricing or billing, or you need help creating, managing or troubleshooting a Zap, go to zapier.com/app/get-help. Zapier also has certified Zapier Experts that you can hire to help set up your Zaps. To see a list of experts, go to zapier.com/experts.
If you have specific questions about how AgencyBloc connects to Zapier or what data you can send from AgencyBloc to other apps through Zapier, contact help@agencybloc.com. AgencyBloc's Client Success Team can help provide guidance on how to use the various parts of our integration to accomplish your goals.
Note: We are not experts on other third-party apps, so those questions are better directed to Zapier Support or the third-party app's support team.
How do I know what apps work with Zapier?
If you have an idea of which apps you would like to connect, go to zapier.com/apps and search for each one.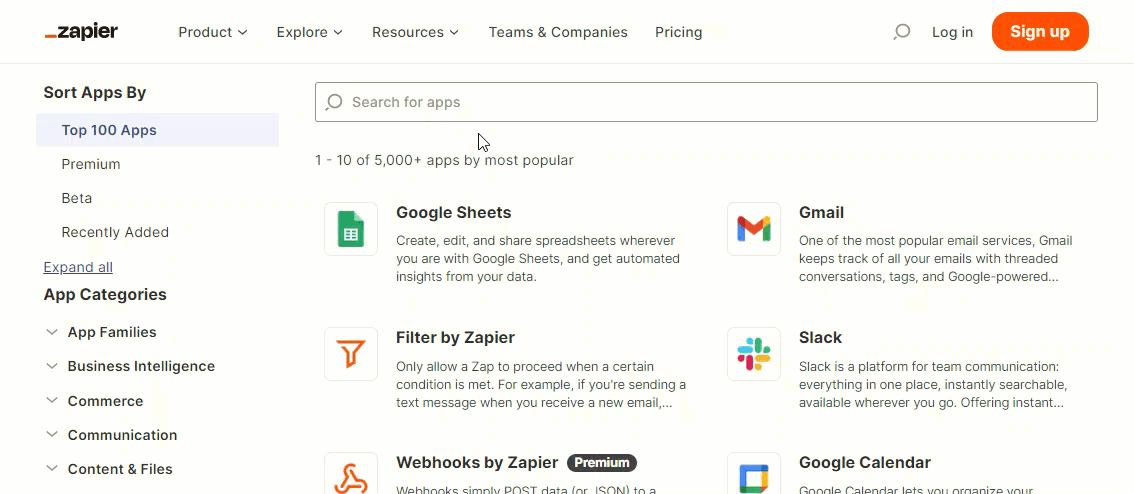 If the app is available, review its triggers and actions, and make sure it's able to meet your business needs. If it doesn't have the right triggers or actions, you may have to look for a different app.
What do I need to do to get started?
For a more detailed overview of Zapier, check out the Integration Overview.
If you're ready to get started using Zapier today:
You will need to activate AgencyBloc's Zapier integration.

Now you're ready to start making a Zap with AgencyBloc.
How are other agencies using Zapier?
What are you trying to accomplish? The apps you use will depend on what you want to do.
Here are some common situations and apps that other agencies have used to solve these problems:
Mail handwritten cards to clients and prospects (Handwrytten, Thanks.io)
Schedule meetings (Schedule Now, Calendly)
Capture leads from paid social ads (Facebook Leads, LinkedIn Leads, Google Ads)
Capture website leads (Jotforms, Ninja Forms, Gravity Forms)
Send texts to clients and prospects (ClickSend SMS, EZ Texting, RingCentral)
Manage call recordings (RingCentral, Vonage)
Perform round-robin assignments (Works in tandem with your lead form and requires additional steps in Zapier's Zap editor)