March has been mad busy with updates to AgencyBloc's commission reporting features, custom fields, and column settings. See below for more details.
---
Commission updates
Note: Only accounts with the Commission Processing module can access and use AgencyBloc's commission features.
Custom Reporting - Commissions
We enhanced our Custom Reporting feature to include commission data. You can now access more commission data with more customization. Build custom commission reports for your agency's unique needs.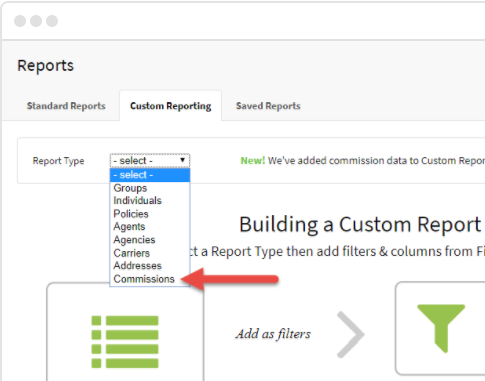 We've added a few examples to Saved Reports help you get started:
EXAMPLE - Commission Payments
EXAMPLE - Commission Statements
Note: This report will only show raw data. It won't show the PDF statement typically given to agents.
EXAMPLE - Commission Totals
If you haven't already, we recommend you watch the Custom Reporting Overview. It's important to understand the basics of Custom Reporting so you can get the most out of this enhancement.
Commission Not Received reports
We updated the report criteria of the Commission Not Received reports (Bill From Date / Statement Date), as well as the layout and design. You can now run them over a range of months. Send these reports to carriers to show missed commissions in the specified range.
Report Criteria
With this update, you can now specify a range of months in the report criteria.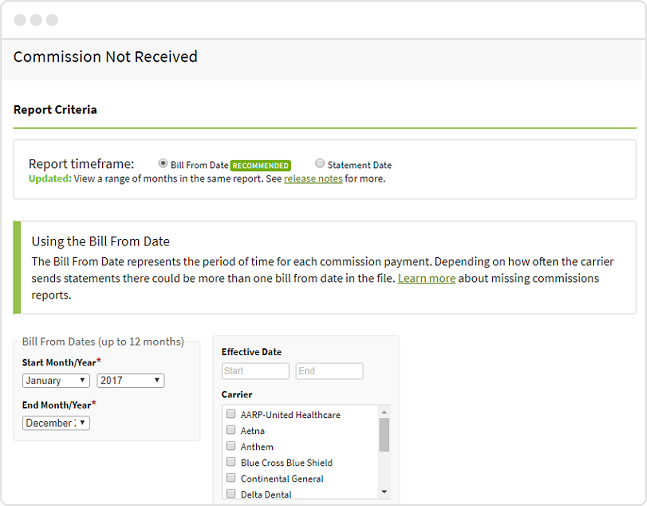 When you run these reports, you'll see new columns for month/year and agent email.

The month/year columns will show you exactly which months your agency received or did not receive a commission with one of these descriptions:
Not received - This means a payment has not been received.
Received (amount) - If a payment has been received, the amount will be shown.
N/A - A payment was not expected.
Tip: Compare the commission frequency against the commission activity. This will help you reconcile the activities you see. If the commission frequency of a policy is bi-monthly, for example, you might expect to see "N/A" every other month for that policy.
The agent email column shows the servicing agent email address so you can easily let your agents know when their policies have missed commissions.
Layout and design
We moved the two "Commission Not Received" reports onto a single page. On this page, you can select and run the report by Bill From Date or Statement Date.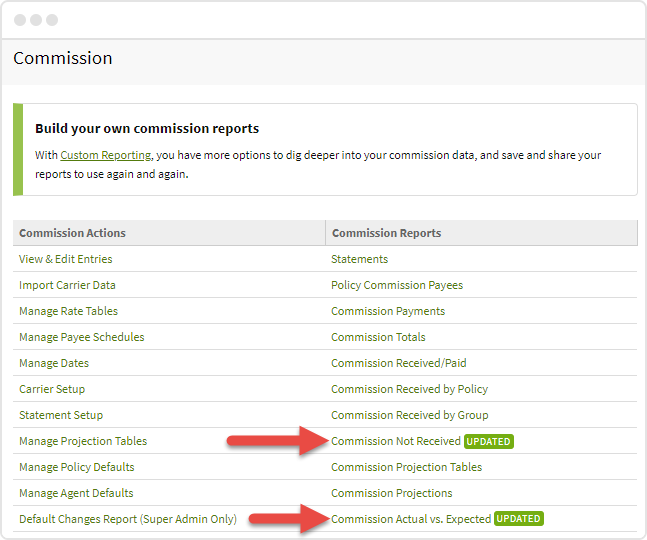 Commission Actual vs Expected Report
We added a Monthly Summary option to the Commission Actual vs Expected report. By using this option, your report output will show 24 additional columns - 1 column for expected and 1 for actual. If you only want the year summary of your AvE data, use the Year Summary option.
Note: This report will only show AvE projections for the past 12 months (not including the current month).
Monthly Summary - New

Year Summary - Existing

Commission Payment History
We made some design updates to the Payment History page (Policy Details > Commissions > Payment History):
Changed "commission payments" to "commission received" to more accurately represent the data shown.
Changed the "Months with commission not received" list into a table to more clearly show which months the policy did not receive payments.
Added a new "Download report for this policy" button.
Note: Clicking this button will download a report of all commissions that the selected policy did not receive for the last 12 months.
Added a "Commission not received report" link.
Note: Clicking this link will point you to the "Commission Not Received" reports that you can to use to find missing payments on all policies.
Payment History - Before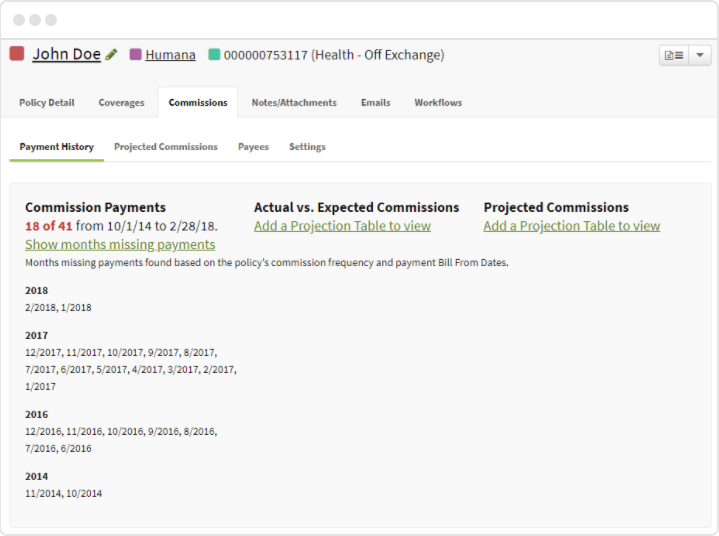 Payment History - After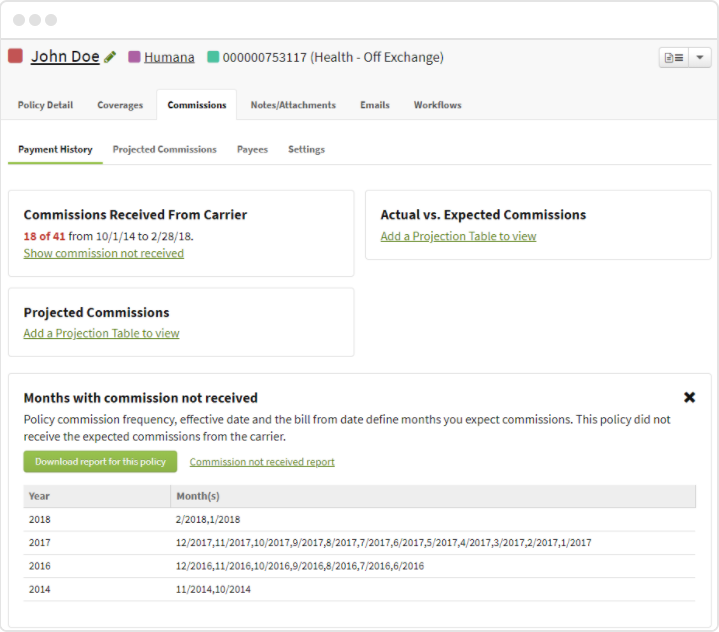 ---
Agent License updates
Custom fields
With this update, you can create custom fields in the Agent License tab (Dashboard > Agents > Agent Licenses).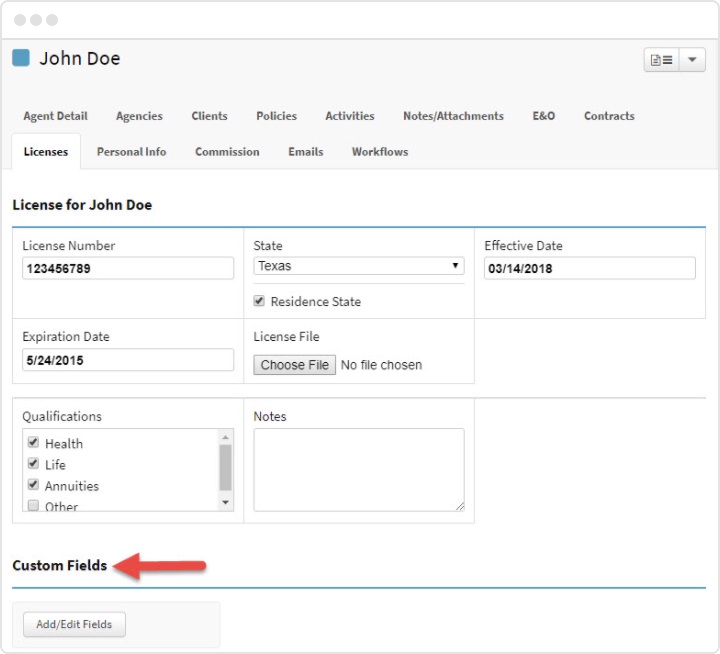 Column settings
If you have permissions to manage column settings, you can now change the data that is displayed in the Agent License tab (Dashboard > Agents > Agent Licenses). To change the data that displays in the Agent License tab, navigate to Create New dropdown menu > Column Settings. Changes you make in Column Settings will change the data that appears in the Policies tab. Check out the Working with Column Settings article for more details.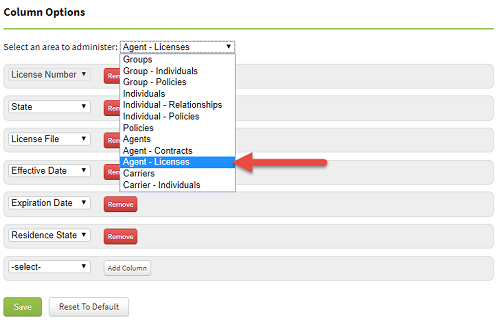 ---
General updates and fixes
We made a few minor maintenance updates and improvements to keep AgencyBloc running smoothly. We perform regular maintenance to ensure you have the best experience when using AgencyBloc.
---
We're here to help. If you need anything, feel free to send us an email at help@agencybloc.com. Also, let us know what you think of the update. Have a good one!