There is content on this page that is under development as part of a beta test for a new and upcoming Sales Pipeline feature. Please note, we currently do not have a definitive release date for this new feature. If you are participating in the beta test and you have questions or feedback, please submit your questions in the beta feedback portal. Thank you.
Overview
Create teams to help delegate tasks and set up sales pipelines in your agency. With teams, you can assign activities to multiple users, give users access to sales pipelines, and schedule team-specific notifications to display on the Dashboard.
IN THIS ARTICLE
---
Creating a team
To create and manage teams, you need the "Manage Security Groups & Teams" Administration Permission.
Go to Profile & Settings > Settings > Teams.

Enter the team name and mark the "Active" checkbox.

The team will only appear in dropdown lists if it is active.

Save.

After creating the team, you can start assigning users to it.
Turning a team into a sales team
All teams have an optional "Sales Pipeline" functionality, which allows you to turn an ordinary team into a sales team. If enabled, you can assign the sales team to sales pipelines. Learn how to set up sales pipelines.
Removing a team
Before you remove a team from AgencyBloc, we recommend first running the Activities report. This report will show you all activities and who they're currently assigned to. If the team you're removing is assigned to incomplete activities, you may want to reassign those activities to a different user or team for follow up.
Also, if the team is associated with any sales pipelines, you will need to remove it from those pipelines first.
Keep in mind, removing a team may affect other areas of the application.
Activity dropdown lists
The team will no longer be available in activity dropdown lists.
Activities Dashboard
Users that are assigned to the deleted team will also no longer see its activities on the Dashboard.
Calendar
Users that are assigned to the deleted team will also no longer see its activities on the calendar.
Automated Workflow
Workflows with actions to create and assign activities to the removed team will instead be assigned to your agency's backup user.
---
Assigning users to a team
To assign a user to teams:
Go to Settings > Users and select the user you want to assign to a team.

Please note, you must have Administrative permissions to manage users to edit user settings.

In the Security section, select the team(s) you want to assign the user to.

Save.

The user will now receive email notifications (unless turned off in Profile & Settings > My Account) when activities are assigned to the team and see team activities on the Activities Dashboard, as well as team notifications.
---
Using teams
Sharing activities
By default, teams allow you to assign an activity to a group of users. Everyone on the team can see its assigned activities on their Activities Dashboard. If an activity has a due date, it will also display on the calendar. Any team member can take action on its activities.
Note: We recommend keeping activities assigned to the team at all times so everyone on the team can track their progress.
Managing sales opportunities
If a team's sales pipeline functionality is enabled, users on the team can create and manage sales opportunities in its pipelines.
Note: Users on the sales team must also belong to a security group with the appropriate group/individual and sales opportunity permissions to access and edit sales opportunities. Learn about the permissions needed for sales opportunities and pipelines.
---
Scheduling team notifications
If you're an agency user with the "Manage Security Groups, Carrier Security Groups, and Teams" Administration Permission, you can schedule team-specific notifications to announce important events and notices at your agency.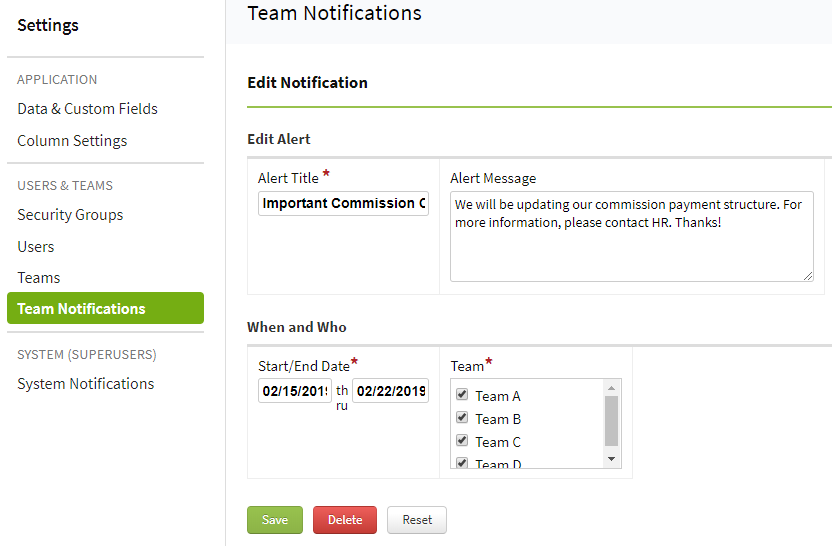 Team notifications display on the Dashboard.