Overview
If you're an administrator at your agency, you may have the ability to create and manage Users in AgencyBloc. Please keep in mind, your agency's monthly billing is based on your Users. For more details about User pricing, please refer to your agency's AgencyBloc contract.
IN THIS ARTICLE
---
Review Security Groups
Security Groups determine what areas, data, and records your Users can see and access in AgencyBloc. Security Groups are required for User account creation and setup, and affect User pricing.
Before adding a new User, you should go to Settings > Security Groups and make sure you have an appropriate Security Group for them.

Here's a video guide with tips and best practices on setting up Security Groups for your Users.
Note: This video was recorded in June 2017. Some of the terms and screens are outdated but the content and processes in this video are still accurate.
---
Create a user
Go to Profile & Settings > Settings > Users and click the 'Create New' button to begin setup

Fill in the new User's details and login info.

Assign the User to a Security Group and update other Security settings.

Depending on the User's Security Group permissions and User Type, you may need to connect the User to their books of business via Accessible Agents. Learn more about the other Security settings in this article.

Save and email login instructions to the new User.

Once saved, the new User will receive an email with a temporary password and login instructions.
Edit a User
If you need to edit the User's account, go to Profile & Settings > Settings > Users and select the User from the list. Then, you can make edits to the User's account details. Please note, any changes you make will forcefully log out the User.
Delete or suspend a User
You can permanently delete Users from Profile & Settings > Settings > Users. All you have to do is access the User in question and delete it.
Note: Deleting a User will remove it from all dropdown menus in AgencyBloc, as well as any Automated Workflows that have actions to create and assign Activities to the User.
If you want to temporarily suspend a User, uncheck the "Active" checkbox. Please note, the User will be inactivated but can be reactivated after a 14-day cooldown period.
If you just want to remove a User from Activity dropdowns without inactivating, contact the Client Success Team at help@agencybloc.com.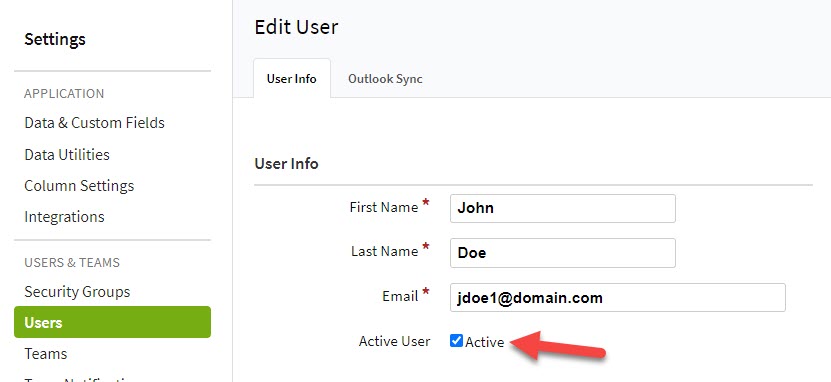 ---
User Security

Security Groups
Every User must be assigned to a Security Group. The Security Group is a set of permissions that determine what the User can see and do in AgencyBloc. You can customize the permissions in a Security Group for the different roles in your agency.
You can quickly change a User's permissions by reassigning them to a different Security Group. Security Groups also impact User Type. Learn more about Security Groups.
Accessible Agents
An Accessible Agent is an association between a User and Agent record for the purpose of restricting the User's access to records and data in their book of business. Learn more about restricting User access to a book of business.
Note: Required for Users that belong to a Security Group with the "Accessible Agent" setting enabled.
Linked Agents
A Linked Agent is an association between a User and Agent record for the purpose of utilizing additional functionality in the Automated Workflow, Sales Opportunity List, and Sales Pipeline Board. Learn more about Linked Agents.
View Agent Commission Statements
This setting allows you to associate a User and Agent record for the purpose of allowing the User to download Agent Statements from AgencyBloc. Typically used for Agent CRM Users and Agent Statement Users.
The User can download statements for Agent records that are associated with their account via this setting. Learn more about Agent Statements.
Team
Teams allow you to delegate tasks to groups of Users and manage Sales Opportunities in Sales Pipelines. You can also make team announcements on the Dashboard. Learn more about using Teams.
View Other Users' Activities
You can turn this setting on and give the User the ability to view Activities assigned to other Users on their Dashboard and AgencyBloc Calendar. Learn more about the Activities Dashboard and AgencyBloc Calendar.