Overview
Now that you're on your way to managing and growing your agency, it's time to grab a cup of coffee and take a look at your Dashboards. There are several dashboards to help you get a handle on what's happening in your agency, day in and day out.
---
Dashboard Types
You'll find four dashboard areas which can be viewed at any time via the Dashboards link in the main menu.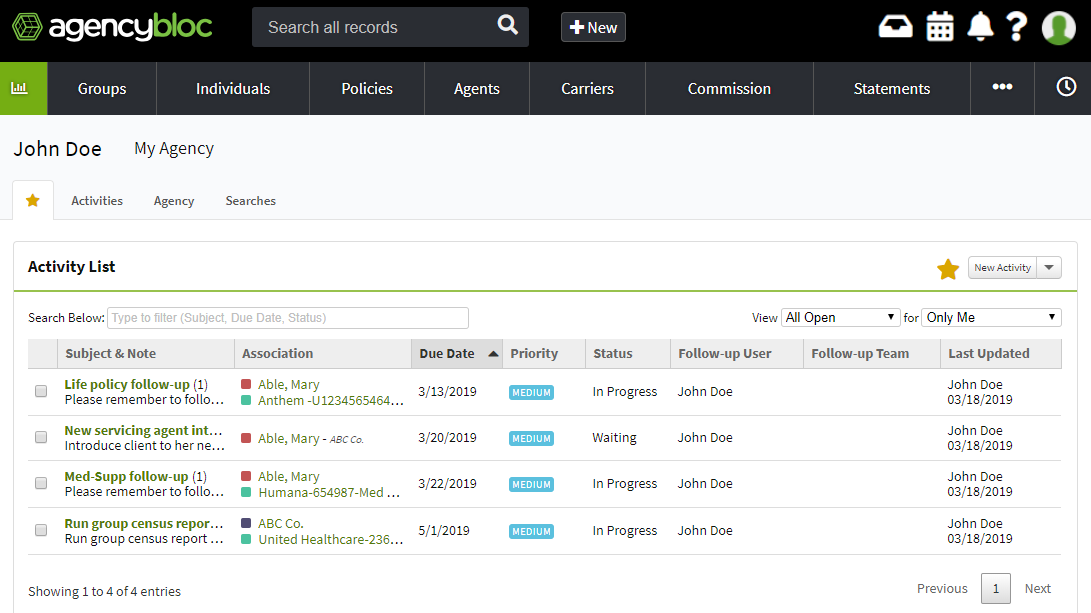 Your Personal Dashboard is made up of items you've favorited to build your own tailored view. It is the first thing you'll see when going to the dashboards area and can be referred to when you need information quickly. By default, your Activity List is included to get you started. Add favorites to create a hub of information to gain insight from graphs.
The Activity Dashboard is where you can view all your open and recently completed activities. Additionally, you are able to view your team's activities. You can sort, filter, and search for activities to accomplish tasks quickly and efficiently.
You will find the following on your activity Dashboard:
Your Activity List
Graphs displaying open and recently completed activities
The Agency Dashboard provides a bird's eye view of your agency by visualizing your data in AgencyBloc into useful graphs. Use these graphs to get a look into the performance of your agency and gain insights to help your decision-making process. As the agency dashboard is a window into your entire agency, you control who has access to see it.
The Agency Dashboard gives you a look into your data from six areas within AgencyBloc:
Activities
Groups
Individuals
Policies
Carriers
Commissions (accounts with the Commission Processing module only)
Searches Dashboard
All of your saved searches display here. Filter and sort searches by type to easily access your saved searches.