Overview
In this article, you'll learn how to create, schedule, and edit an Email Marketing campaign. With email campaigns, you can send product and enrollment details, holiday e-cards, and other info to your agents, leads, and clients.
Note: To create email campaigns, your Account Owner must have activated Email Marketing or Automated Workflow.
IN THIS ARTICLE
---
Create a campaign
You can create a new campaign from the +New menu or the Email Marketing page. When creating a campaign, make sure to give it a unique name that describes the purpose of your communication.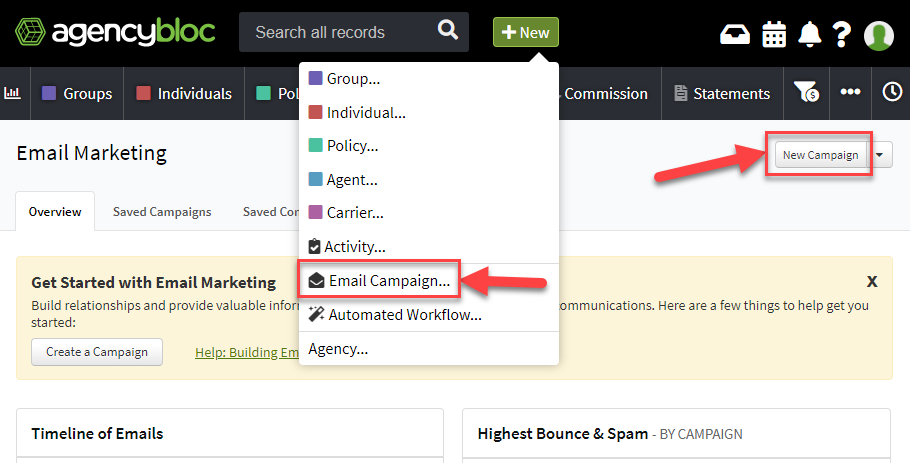 After creating the campaign, you will need to:
Fill in campaign details

Specify who to send emails to and how many, and other important details. For more information, see the Campaign details section of this article.


Craft your email(s).

As you write your message in the email editor, you can change the text formatting, pull in data from your records using variable data, add images, add saved content, and more. Also, you can't attach files, but you can add links to files that are hosted on your website or cloud services, like Google Drive.


Refine your recipient list.

By default, your campaign will send emails to all contacts that match the selected recipient type (specified by the 'Send To'). You can use filters to narrow the recipient list and target specific contacts.


Schedule and send your campaign.

Scheduled email campaigns will stop sending emails at 7:00 p.m. Central Time. Any remaining emails will be sent the next day, starting at 6:00 a.m. Central Time.

This is important to keep in mind when you're planning email campaigns. If you try to schedule a campaign to send "Now" and it's 7:00 p.m. Central Time, for example, those emails will be sent the following day.
Monitoring campaign performance
After scheduling the campaign, you can monitor its performance and review results. See the Monitoring Campaign Performance article to learn how to track the performance of your email campaigns to grow your list and improve your outreach efforts.
Editing & managing campaigns
If you want to edit campaign details after creating a campaign or stop a campaign from sending emails (temporarily or permanently), check out the following:
Editing Email Campaigns
Learn how to edit an email campaign and what you can edit.
Managing Email Campaigns
Learn how to pause a campaign to stop it from sending emails temporarily or retire a campaign to shut it down permanently. Also, learn when you can delete campaigns.
---
Campaign details
In campaign details, you'll specify who will receive your emails, how many emails will be sent, and who will receive replies from your recipients.
| Campaign Detail | Description |
| --- | --- |
| Email Header | The top of campaign emails can include your business logo. Please note, your business logo must first be uploaded to Email Template Settings before you can add it to campaign emails. |
| From Name | This name will display when your recipients open their inbox. Use a name your recipients will recognize. You can use the servicing agent's name, your marketer's name, or a custom name. |
| Reply to Email | Replies from campaign recipients will go to this email address. You can use the servicing agent's email, your marketer's email, or a custom email address. Whoever you pick, notify the servicing agent or team member ahead of time so they have time to prepare for incoming questions. |
| Send To | Your campaign can send emails to contacts that have a corresponding record in AgencyBloc with a valid email address. Think about who will be receiving the email and select the respective recipient type in the Send To field. See the Recipient type section in this article for more information. |
| Number of Emails | Choose the number of emails this campaign will send. If you want your campaign to send multiple emails over a duration of time, choose the number of emails to 2 or 3 to set a drip delay. |
Recipient type
Recipient type determines who will receive your emails. You can send campaigns to the following types of recipients:
Recipient Type
Description
Individual
All individuals in your AgencyBloc account.
Primary Contact of Groups
For every group, you can set an individual as its primary contact. The campaign will send emails to this individual.
Group Individuals
All individuals associated to a group.
Policyholders
Policies in your account can be associated to individuals. The campaign will send emails to these individuals.
Primary Contact of Group Policies
Policies associated with a group. The campaign will use the Primary Contact for your group as the sent to.
Group Policy Individuals

All individuals that have an enrollment on a group policy.

Note: You can use enrollment status and election to filter your recipient list.

Agent
All agents in your account.
---
Crafting emails
Once you know what you want to say, consider the following when crafting your emails:
If you send a particular email often, you can keep and reuse the message by adding it to saved content.
---
Common questions
Is there a limit to how many emails I can send?
Yes, there is a standard daily limit of 1000 per day.

Why isn't someone showing up on the recipient list?
Check to make sure that that person has an agent or individual record in AgencyBloc with a valid email address. Also, recipients that have opted out will not appear on the recipient list.